Nana (ナナ) often stylized as NANA, is a Japanese manga and anime series created by Ai Yazawa. The title comes from the two main characters, Nana Osaki and Nana Komatsu.
The manga was serialized in Cookie, a manga magazine related to Ribon, who published many of Yazawa's earlier works. It was published by Shueisha in Japan, and by Viz Media in North America, who serialized Nana in their magazine, Shojo Beat.
It was adapted into a popular live-action film in 2005, followed by a sequel in 2006. That same year, a Nana anime was produced with a total of forty-seven episodes by Madhouse Studios. Nana has also had several other products, such as soundtracks, video games, and books released.
Premise
Nana Komatsu and Nana Osaki are complete opposites of eachother, however a chance encounter on a train brings the two together. They become close friends and share an apartment together.
Nana Osaki came to Tokyo to headline a punk band, Blast. She is joined by old bandmates, Nobuo Terashima, Yasushi Takagi, and new member Shinichi Okazaki. The band gains popularity at live gigs and eventually gets signed by Gaia Records. However, they became known nation-wide, after Nana's relationship with Trapnest guitarist, Ren Honjo was revealed.
Trapnest consists of Reira Serizawa, Ren Honjo, Takumi Ichinose, and Naoki Fujieda. The band has a huge following by the time Nana O moves to Tokyo. The lives of Nana Osaki, Nana Komatsu, Blast, and Trapnest becomes intertwined as the series goes on. Many glimpses of the future are also shown.
Media
Manga
The manga debuted in Cookie in late 1999, around the same time as Ai Yazawa's Paradise Kiss. The series was put on hiatus in June 2009, when Yazawa suddenly became ill. She returned from the hospital in April 2010, but no set date for Nana's return has been annouced.[1] Yazawa published a "Junko's Place" chapter in 2013, giving fans hope of a possible return.[2] Slowly Yazawa and Cookie have released various drawings and furoku over the past three years.[3] The manga has been collected into twenty-one volumes so far and published by Shueisha in Japan.
Viz Media currently holds the rights to the North American English version of Nana. Nana was also serialized in their magazine, Shojo Beat, until August 2007.
Anime
Nana was adapted into an anime in 2006, directed by Morio Asaka and animated by Madhouse Studios. The series aired for a total of forty-seven episodes from April 5, 2006 to March 27, 2007. Anna Tsuchiya as Nana Osaki and Olivia Lufkin as Reira Serizawa provide songs for the openings and endings of the anime.
The anime ends around the twelfth volume of the manga to avoid filler. Junko Koseki (editor of Nana at Shueisha), and Masao Maruyama (president of Madhouse) expressed interest in producing a second season of the anime once the manga is finished.[4]
Live-action films
The first live-action film was released on September 3, 2005.
Mika Nakashima
, and
Aoi Miyazaki
star as
Nana Osaki
, and
Nana Komatsu
. The other cast members include,
Hiroki Narimiya
as
Nobu Terashima
,
Kenichi Matsuyama
as
Shin Okazaki
, and
Ryuhei Matsuda
as
Ren Honjo
.
The film was huge success and was followed by a second live-action film released on December 9, 2006. Production of the film started in September of 2006, and filming took one and a half months to finish. Three actors were recasted, which include, Yui Ichikawa as Nana Komatsu, Nobuo Kyo as Ren Honjo, and Kanata Hongo as Shinichi Okazaki.
Video games
Three video games based on Nana have been produced, the first being released March 2005 by Konami for the PlayStation 2. Ai Yazawa did the designs for the main character, who the player can change and customize.
The second was released for the PlayStation Portable on July 6, 2006. In June 2007, Konami released the third for the Nintendo DS. Both feature the characters in "chibi" form.
Albums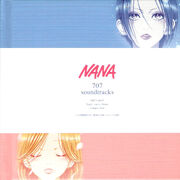 Nana
has numerous original soundtracks with music from the live-action films and anime series.
Much of the music for the anime was performed by Anna Tsuchiya and Olivia Lufkin. Lufkin released two singles and Olivia Inspi' Reira (Trapnest), while Tsuchiya released three singles and Anna Tsuchiya Inspi' Nana (Black Stones) based on the Nana anime. Three soundtracks were also released featuring music from the anime.
Mika Nakashima as Nana Osaki, performed "Glamorous Sky" and "Hitoiro" for the live-action films. She also released The End, featuring the previous singles and other music inspired by Nana. Yuna Ito performed "Endless Story" and "Truth" as Reira Serizawa. Soundtracks for both films were released.
Several tribute albums inspired by Nana have been produced. Including Punk Night from Nana released on September 26, 2003 and, Nana's Song Is My Song on November 6, 2003. The only official tribute album, Love for Nana was released on March 16, 2005.
Books
Yazawa released Nana 7.8, a fanbook, betwen volumes 7 and 8 on March, 14 2003. Various other books and artbooks have been released since, such as Nana 1st Illustrations, Nana the First!, and Mobile Nana Book.
References
Ad blocker interference detected!
Wikia is a free-to-use site that makes money from advertising. We have a modified experience for viewers using ad blockers

Wikia is not accessible if you've made further modifications. Remove the custom ad blocker rule(s) and the page will load as expected.